WELL, I WONDER HOW THE CONVENTION TURNED OUT?
I GIVE CREDIT TO THE EXECUTIVE FOR VOTING AGAINST
USING M.A.P. MONEY FOR ANYTHING OTHER THAN IT WAS
INTENDED.
THEY ARE ON RECORD SAYING THEY WOULD NOT VOTE FOR
POLICY #6
I NOTICE WE HAVE BIG BOXES IN OUR LOBBIES COLLECTING
USED HOCKEY EQUIPMENT WITH DON CHERRY'S ENDORSMENT.
MAYBE THE COMPANY IS FINALLY GOING TO CHANGE THEIR
OUTLOOK FOR US AND KEEP US VIABLE FOR THE NEXT FEW YEARS.
IT MAY NOT SEEM LIKE MUCH, BUT LET'S HOPE IT'S A START IN THE RIGHT DIRECTION.
I ALSO SEE WE ARE ADVERTISING FOR MANAGERS ON OUR P.O.S.
MACHINES. I HAVE NOTICED THAT THEY ARE ADVERTISING ON THEIR
WEBSITE AS WELL. I WOULD FIND IT VERY HARD TO MANAGE A BEER
STORE WHEN YOUR CHECKER AND STOCKHANDLER IS MAKING MORE MONEY THAN YOU!
I AM GLAD TO SEE SOME P.P.T.s MAKE MANAGER. AT LEAST THEY ARE GOING TO MAKE A GOOD WAGE RATHER THAN WAITING TO GET ON FULL TIME WITH US AT A LOWER RATE.I JUST HOPE THEY DO NOT
TURN OUT LIKE SOME WORKERS DID WHEN THEY GOT MADE UP AND
BECAME INSTANT BEER STORE GODS!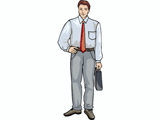 THIS PAGE IS DEDICATED TO THE BROTHERS AND SISTERS
FROM THE STORES. ALL COMMENTS PERTAINING TO THE STORES
WILL BE POSTED HERE AND WE WELCOME ALL COMMENTS.